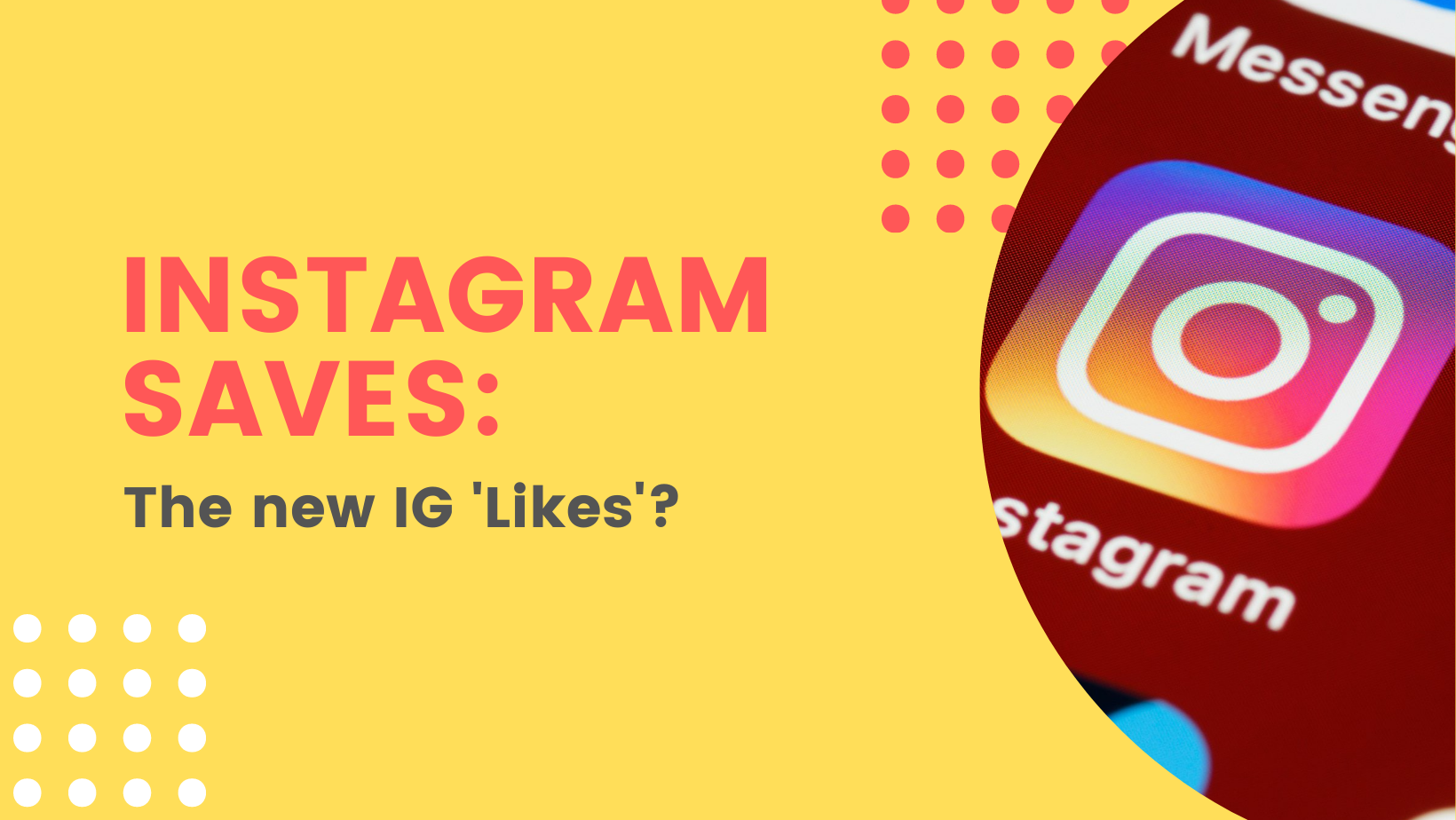 Why Instagram Saves Are Important For Your Social Media Marketing Strategy
Why Instagram Saves Are Important For Your Social Media Marketing Strategy
Since its launch in 2010, Instagram has become one of the most used social media platforms of our time. With over 1 billion active users, the app has become an integral part of any social media marketing strategy, especially in cities like Hong Kong with a high internet penetration rate. 
In 2016, Instagram changed how users view posts on their feed. Instead of presenting content in reverse chronological order, the company introduced an approach based on an algorithm that aimed to evaluate which content a user would most like to see, and would therefore prioritize showing that. To do this, it gathered data from several features that demonstrated a post's performance rate.
To ascertain what type of content a user likes, Instagram looks at their past engagement with posts and uses this information to evaluate recent posts to see which ones would be of the most interest to the user. It assumes that if someone has already interacted with your content, they are likely to be interested in your new content. 
The number of likes, comments, and shares that a post receives is among the factors used by the Instagram algorithm to determine its success and engagement rate. For brands and influencers in Hong Kong, achieving high numbers for these three factors has always been an important aim in their social media marketing strategy. 
However, since 2017, there's a new kid on the block. Instagram saves are a little-used, but important feature that the algorithm uses to judge a post's performance.
What are Instagram saves?
In 2017,  Instagram Saves was launched as a brand new feature. Instagram Saves allows users to "bookmark" others' posts for future reference. These saved posts can then be found by visiting the Instagram profile page, tapping on the three horizontal lines at the top of the page, then clicking on "saved". It is also possible to create collections from these posts, adding titles such as "Recipe ideas", "Interiors Inspiration", or "Christmas Gift Ideas".
Why are Instagram saves important?
Instagram saves are important for both brands and users alike and should be a consideration when creating one's social media marketing strategy. 
For brands, saves are another way to increase your brand exposure. Should a user save your content, it demonstrates that they found it valuable, and intend to revisit it later. This increases the "value" level of that particular post, meaning it is more likely to be displayed to other users who engage with similar content, and it is more likely to appear on users' explore feeds.
How do you check how your Instagram saves are performing?
When it comes to viewing who has liked or commented on your post, or who follows you, a brand or individual can easily navigate the app to view this data. However, it is not possible to see who has saved your story. You could, of course, ask your followers in a story, but this is unlikely to provide an accurate result.
That being said, you can see how many people have saved your post. To do so, switch to your business or creator account, then:
– Go to your profile to view your posts
– Select the post you want to see insights for
– Click on "view insights" at the bottom of the post. The "bookmark" icon will show you how many times people have saved this post. 
By viewing the insights related to your Instagram saves, you will be able to adjust your social marketing strategy accordingly, to continue to produce content that is proven to increase engagement, and ultimately reach. 
How do you include Instagram saves in your social media marketing strategy in Hong Kong? 
In this day and age, every brand should have a social media content marketing strategy as part of its marketing arsenal. The aim of this strategy should be to increase engagement, expand reach, and ultimately increase sales and/or brand awareness. An important element of this is creating content that is "saveable" so that the algorithm favors your posts more highly. Here are some ways in which you can make your content more "saveable":
Write interesting and useful captions: Captions are a great way to create value for your followers. Try to view photo captions are mini blog posts and aim to make them engaging and interesting. Make the first line of your caption attention-grabbing, as this will compel people to read on. Avoid large blocks of writing, as this can put people off reading the content. Instead, break your caption up into manageable paragraphs of just a couple of sentences. 
One of the biggest criticisms of Instagram is that it values appearance over authenticity. However, statistics show that users prefer brands with an honest and personalized social media presence. You can use your Instagram captions to reflect the tone of voice of your company and provide insights into the history and behind the scenes of the brand. 
Create infographics: Instagram is often used to help raise awareness about societal issues, politics, and global events. However, the format doesn't allow for long-form pieces, such as those found on news sites. Instead, infographics are the preferred form for displaying this information. Breaking down complex topics into visual content and data means it can be used as an educational tool, encouraging users to save it for future reference. 
Include a CTA: One way to encourage people to save your content, is simply to ask. Much like YouTubers ask viewers to "like and subscribe" at the end of a video, you can include a call to action (CTA) at the end of your Instagram caption. If you have created a piece of content that is useful as a reference tool or worthy of adding to a collection, nudge your followers into taking action by suggesting that they "save this post for future reference"!
Create unique content: It should come as no surprise that users are more likely to be impressed by content they haven't seen before. If you're a cooking account, share an interesting and lesser-known food fact. If you're a clothing or jewelry brand, share some behind-the-scenes photos from a shoot, coupled with an insightful caption. Unique content such as this will encourage more engagement, which should lead to more saves. 
Make it inspirational: There's no denying that Instagram users, in general, love quotes. Whether they're inspirational or funny, creating posts that display quotes in an aesthetically pleasing way is guaranteed to earn you some saves. They also have the added benefit of making your brand seem more relatable, which can help make a company's content seem less sales-oriented.
Create tips and hack posts: As the popularity of TikTok has proved, tips, tricks, and hacks are universally loved. By creating an Instagram post that shares a little-known, but useful piece of advice, you will encourage users to save the post for future reference. 
Use hashtags to make your hack posts easier to find. For example, if your post offers a tip for increasing inbound links to your website, upload it with a hashtag such as #SEOtips. This will help people find your post, increasing your reachability, and therefore potential saves.
Use relevant meme formats: Some of the biggest accounts on Instagram are solely meme accounts. These accounts have millions of followers, providing their users with light, yet engaging entertainment. 
In recent years, brands have caught onto the meme trend, using it as a way to increase relatability, and also engagement. Take this example from Curology. Not only is it relevant to their skincare brand, but many skincare enthusiasts will find this post relatable. Use memes that are relevant and applicable to your target demographic, to increase the likelihood that users will save the post. 
Create content that can be used all year round: For users to want to save content, they need to see the value in revisiting it at a later date. This could be to share with others at another point in time, or because it contains information that they are likely to want to use again. Creating so-called "evergreen" content is one way of encouraging users to save your posts. This could be something like a workout, a checklist, or a tutorial. Such content holds its value, making it worthy of saving to a collection.
Create informative IGTV: Instagram TV was introduced as a feature in 2018 so that creators could upload long-form videos. IGTV has allowed for new styles of content, such as interviews, short documentary-style videos, and food tutorials. This allows brands to provide content that helps build a better connection and rapport with followers. Creating a video that responds to customer's pain points is a great way to get more saves, as you're addressing your consumer's problems, and providing solutions that they are likely to find valuable enough to want to save for later.
With millions of videos, reels, and images uploaded to Instagram daily, your social media marketing strategy should aim to create content that adds value to the lives of your target audience. Tracking saves is a great way to measure this value, and to monitor what content types work best for your brand. The more saves you're getting, the better, as it demonstrates that you are creating posts that resonate with your audience.