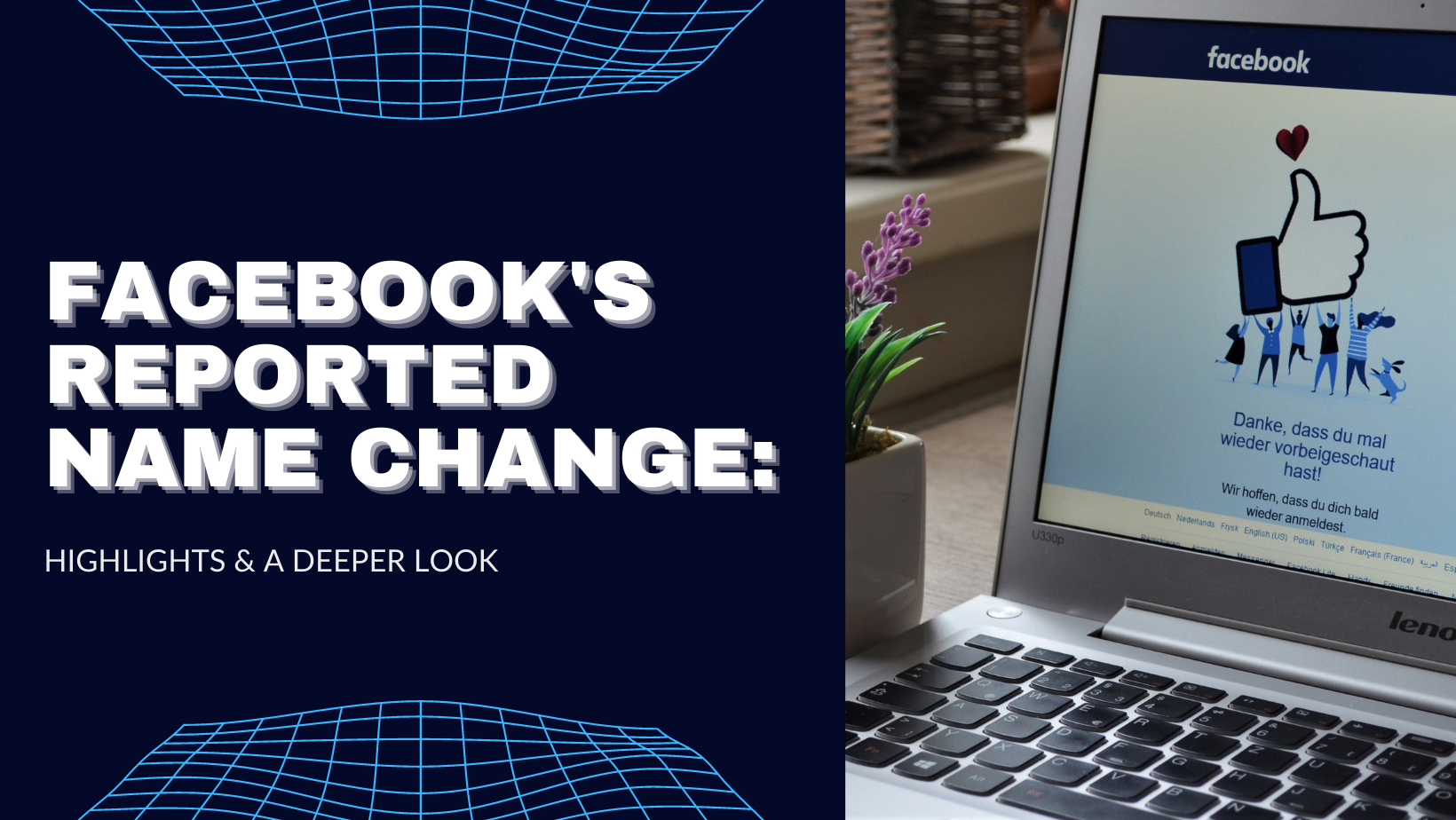 Facebook's Potential Name Change: An overall look & how it may impact the social media marketing landscape
When it was first launched in 2004 by Harvard sophomore Mark Zuckerberg, TheFacebook was intended to be used as a platform to connect Harvard students. Fast forward 17 years, the company now named Facebook is one of the most valuable companies in the world. Approximately 44.84 million people are active on the site, making it the most used social media platform in the world; and for marketers both in Hong Kong and globally, one of the biggest social media marketing platforms there is. 
On the 19th of October, multimedia company The Verge reported that Facebook is planning to change its company name. Their theory behind this name change suggested that it accompanies the company's increasing focus on creating 'the metaverse'. Facebook itself has refused to comment on this matter, with their spokesperson, Joe Osborne, saying that it "doesn't comment on rumor or speculation". However, it is believed that Zuckerberg plans to speak about this name change at the company's annual Connect conference at the end of the month.
The name change is expected to encompass its brands, which include Facebook, WhatsApp, Instagram, and Oculus, and signifies the conglomerate's futuristic ambitions, with the move towards a focus on 'the metaverse'. Earlier this month, Facebook shared a blog post in which they announced plans to hire 10,000 workers in the European Union to help build this new platform. According to the post, people will 'be able to hang out with friends, work, play, learn, shop, create and more', despite being physically distant. Reactions to this news have been mixed, with Twitter CEO Jack Dorsey agreeing with a tweet that said the metaverse could be 'a dystopian corporate dictatorship'.
Such rebrands by major companies can occur for a myriad of reasons, such as to settle a court battle or to move away from an immature name. Alternatively, companies may choose to rebrand to escape their negative reputation. It has been suggested that this is the reason in Facebook's case after former Facebook product manager Frances Haugen released information that painted an unsightly picture of the social media network.
"The thing I saw at Facebook over and over again was there were conflicts of interest between what was good for the public and what was good for Facebook. And Facebook, over and over again, chose to optimize for its own interests, like making more money", Haugen said in an interview on the American television program, 60 minutes. She claimed that if Facebook changed its algorithm to make the platform safer, for example, people will spend less time on the platform and they will make less money. At the beginning of October, Haugen testified before the Senate, stating "I'm here today because I believe Facebook's products harm children, stoke division, and weaken our democracy.
The emergence of Haugen's claims does not mark the first instance that the company has come under fire. Since its conception in 2004, Facebook has faced several scandals. In 2014, it was revealed that the social network had conducted a psychological experiment on nearly 700,000 users without consent. This experiment hid certain emotional words from users' newsfeeds, to see how they changed their reactions to posts. The study was widely criticized as being unethical and manipulative, leading to an apology from Facebook.
Another notable scandal took place in 2016, where data analytics firm Cambridge Analytica improperly obtained personal data of up to 87 million Facebook users, which informed the construction of a software program that predicted and influenced voter choices during the 2016 US elections. Facebook eventually paid a $5BN fine, after the Financial Trade Commission approved the fining of the company to settle an investigation into the privacy violations they had allowed.
Whether the name change is in response to the recent bad press the company has received, or to reflect the company's ambitious plans, it is not entirely sure. What is certain, however, is that the company must work to rebuild the public's trust, and prove to the world that they will fight misinformation and hateful speech, even at the expense of company profit. For brands and social media marketers, it remains to be seen how this change will impact the social media marketing space in Hong Kong and beyond. We certainly can't wait to find out!