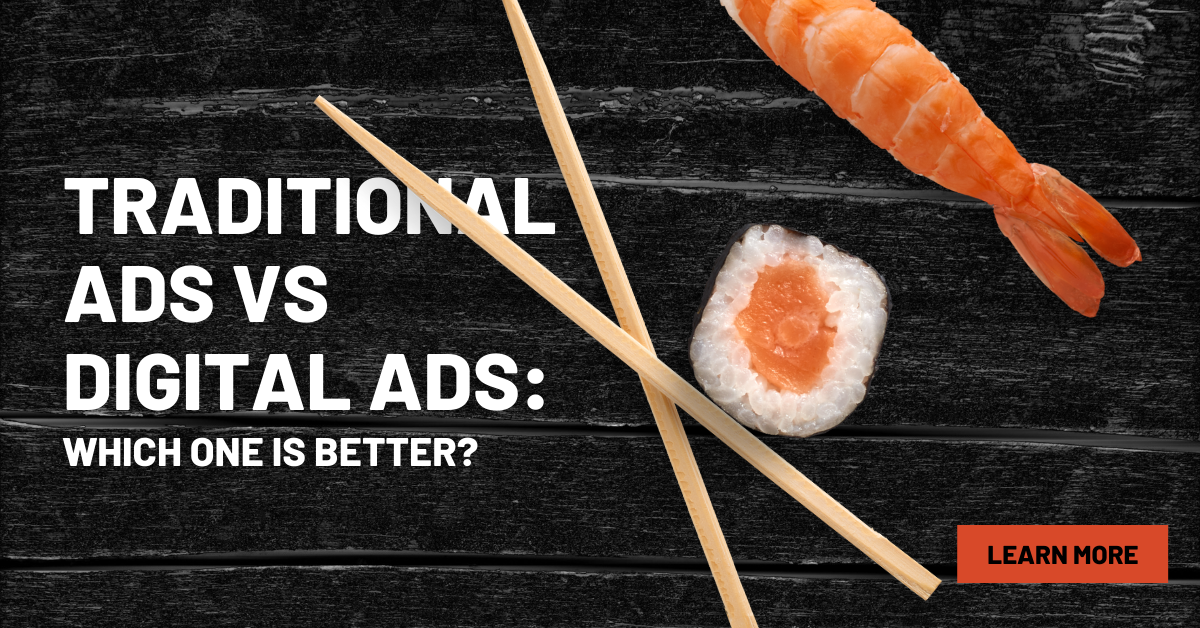 Traditional Ads vs Digital Ads: Which one is better?
When it comes to promoting a brand or launching a new product, which of the following pops into your mind first: traditional ads or digital ads? I guess you might be wondering what differences there are between them. No worries, OM is here to help you make sense of them!
Traditional advertisement
In general, traditional ads include television commercials, run-of-paper advertisements/advertorials, out-of-home advertisements, event booths, etc.
Television Commercials (TVC)
As its name suggests, television commercials are advertisements placed on TV stations, such as TVB and ViuTV. This type of advertising can assist brands in spreading their awareness to a huge number of their target audience. In most cases, you can find them during commercial breaks or see products being embedded in shows. However, it takes much time to prepare a television commercial and there are a bunch of restrictions on production.
Run-of-paper Advertisements (ROP) / Advertorials
You may not believe this, but newspapers are still a great way to advertise your brands as long as you figure out the target audience behind them.
South China Morning Post: 347,000 readers
Their readers are mostly over 30 years old, with 66% of them holding a bachelor's degree. Half of their occupations are professionals, managers, administrative staff, merchants, and business owners.
Ming Pao: 2,240,000 readers
As the most authoritative Chinese media in 2010, it attracted more than 400,000 readers. Their audience is predominantly middle class aged 25 to 34, with higher education levels. They have a daily circulation of around 80,000.
Sing Tao Daily: 2,570,000 readers
In 2022, the number of their readers, including many primary and secondary school students, increased by 8% with the highest growth rate among all newspapers in Hong Kong. Their daily circulation is about 180,000.
Hong Kong Economic Times: 1,450,000 readers
With a daily circulation of up to 73,330, they provide a digital platform named hket.com for readers to easily consume their diversified content through their website and mobile application.
Different newspapers are now offering a variety of online advertising services, which can effectively help SMEs and start-ups build brand credibility. By taking advantage of ROP and advertorials, traditional businesses can build their online presence effortlessly. Depending on placement, the advertising cost can range from HKD5,000 to HKD30,000 and above.
Out-of-home Advertisements (OOH)
As one of the most useful tools in the sales industry, OOH is primarily utilised to incentivise customers' buying desire through soft-selling techniques. Taking into account the immense pedestrian flow and exposure, OOH can help spread awareness about your business greatly; however, the drawbacks of this advertising are that the preparation time is long and the placements are restricted. 
To advertise your business with OOH, you should mull over which placement can bring you the highest ROI. At the moment, most of the placements occupied by luxury brands cost around HKD10,000 to HKD300,000.
Event Booths
Through event booths, businesses can directly sell their products to prospective customers, ranging from food to household appliances. In different months or seasons, there will be various sizes of event booths with a series of themes, such as winter food festivals and pet shows, held in Hong Kong, aiming to stimulate consumption and promote certain brands. Typically, the cost for event booths is around HK20,000 to HK60,000, depending on the size of the booth and the location.
Digital Advertisement
For businesses with fewer budgets, digital ads can help you out by effectively controlling ad budgets and accurately pinning down your target audience. To help you understand the effectiveness of digital ads, we have organised some data from the most popular social media platforms in Hong Kong. See below!
Facebook Ads Cost
Users: 4.5M

CPC: USD0.97

CPM: USD7.19
Instagram Ads Cost
Users: 3.6M

CPC: USD3.56

CPM: USD7.91
LinkedIn Ads Cost
Users: 2.5M

CPC: USD5.26

CPM: USD6.59
YouTube Ads Cost
Users: 6.6M

CPC: USD10 and above

CPM: USD4-10